Your AC system is created out of four main parts: an evaporator coil, a compressor, a condensing coil, and an expansion valve or metering device. The piece where your refrigerant evaporates from a sub-cooled liquid to a super-heated vapor is called the evaporator coil, which may be inside, in your attic, or in your garage. As warm indoor air is blown throughout the cold evaporator coil, heat is removed from the air…and the cooled air is blown among your home.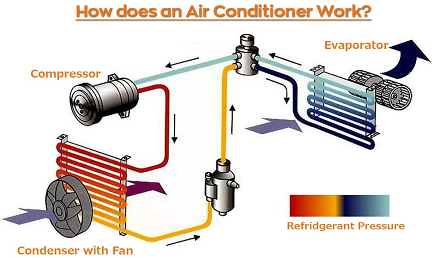 From the evaporator coil, the now super-heated vapor refrigerant goes back to the compressor stationed in your outdoor condensing unit. The compressor increases the pressure of the vapor until it shifts into a hot, high pressure vapor. The now super-hot vapor enters the condenser coil where less hot air blows across the coil, eliminating the heat to the outdoors, and returns the refrigerant to a sub-cooled liquid. The sub-cooled liquid refrigerant is returned to the indoor evaporator coil where, through an expansion valve or metering device, the process is redone.
Your air conditioner is a constant loop of physics at work. We know the important thing to you isn't really how it works, but that it's functioning successfully. If you'd like to talk science or just about staying cool, giving our professionals a call at 224-699-9229 or set up an appointment with us online. We will work with you and the laws of physics to keep you cool this season.